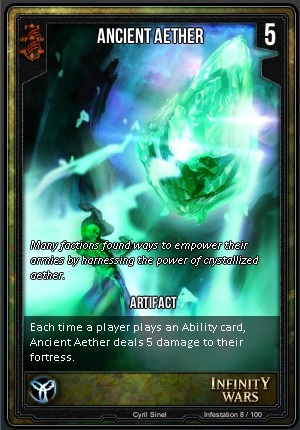 Faction
Warpath
Purity
Type
Artifact
Set
Infestation
Rarity
Rare
Cost
5
Text
Any time a player plays an Ability card, Ancient Aether deals 5 damage to their fortress.
Flavor

Many factions found ways to empower their armies by harnessing the power of crystallized Aether.

But for many, the power was too great to control.

Animation
Ad blocker interference detected!
Wikia is a free-to-use site that makes money from advertising. We have a modified experience for viewers using ad blockers

Wikia is not accessible if you've made further modifications. Remove the custom ad blocker rule(s) and the page will load as expected.