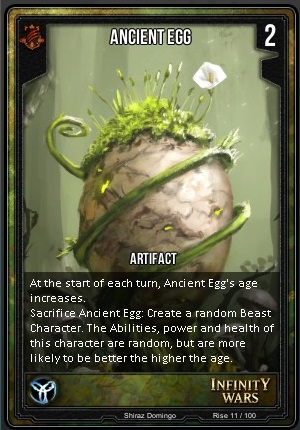 Faction
Warpath
Purity
Type
Artifact
Set
Rise
Rarity
Rare
Cost
2
Text

At the start of each turn, Ancient Egg's age increases.

Sacrifice Ancient Egg: Create a random Beast Character. The Abilities, power and health of this character are random, but are more likely to be better the higher the age.

Flavor

N/A
The exact probabilities for Ancient Egg are unknown.
Some results:
Age 1: 5/5 One of Many
Age 3: 2/2 Matriarch
Age 4: 6/6 Infected Pack Leader, 10/10 One of Many, 11/11 Matriarch
Age 5: 20/20 One of Many, 2/2 Matriarch, 13/13 Pack Leader
Age 6: 18/18 One of Many, 11/11 Killaroo, 15/15 Killaroo, 22/22 Killaroo, 3/3 Matriarch, 19/19 Infected Pack Leader, 21/21 Pack Leader
Age 10: 15/15 Hunted Dragon
Age 11: 41/41 Pack Leader
Age 25: 29/29 Pack Leader
Age 15: 44/44 Matriarch
Age 52: 170/170 Kilaroo
Age 55: 280/280 One of Many
Ad blocker interference detected!
Wikia is a free-to-use site that makes money from advertising. We have a modified experience for viewers using ad blockers

Wikia is not accessible if you've made further modifications. Remove the custom ad blocker rule(s) and the page will load as expected.