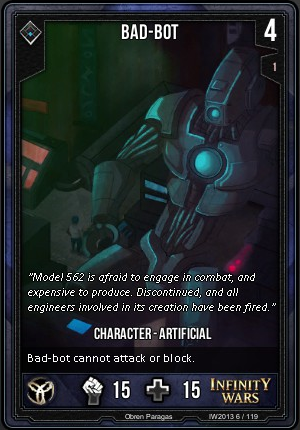 Faction
Genesis Industries
Purity
Type
Character - Artificial
Set
Core 2013
Rarity
Uncommon
Cost
4
Morale
1
Atk
15
HP
15
Text
Bad-Bot cannot attack or block.

RU: Bad-Bot не может атаковать или блокировать.

Flavor

'Model 562 is afraid to engage in combat, and expensive to produce. Discontinued, and all engineers involved in its creation have been fired.'
Play Tips
: Very good as a
Secluded Constructor
sacrifice.
Can exhaust for the War Machine.
Can exhaust for Lanstead.
When it dies also decent for Orion, Master Architect's ability.
Ad blocker interference detected!
Wikia is a free-to-use site that makes money from advertising. We have a modified experience for viewers using ad blockers

Wikia is not accessible if you've made further modifications. Remove the custom ad blocker rule(s) and the page will load as expected.