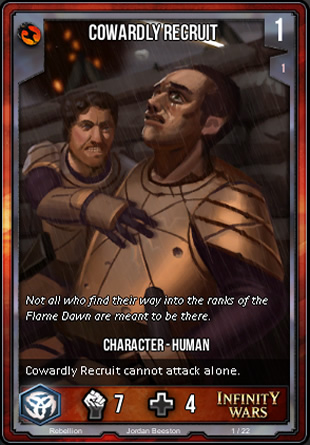 Faction
Flame Dawn
Purity
Type
Character - Human
Set
Rebellion
Rarity
Common
Cost
1
Morale
1
Atk
7
HP
4
Text
Cowardly Recruit cannot attack alone.
Flavor

Not all who find their way into the ranks of the Flame Dawn are meant to be there.

Animation
Cowardly Recruit Animated
Ad blocker interference detected!
Wikia is a free-to-use site that makes money from advertising. We have a modified experience for viewers using ad blockers

Wikia is not accessible if you've made further modifications. Remove the custom ad blocker rule(s) and the page will load as expected.