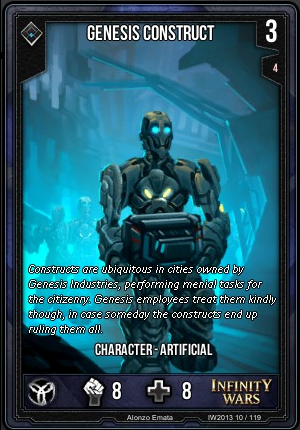 Faction
Genesis Industries
Purity
Type
Character - Artificial
Set
Core 2013
Rarity
Common
Cost
3
Morale
4
Atk
8
HP
8
Text
N/A
Flavor

Constructs are ubiquitous in cities owned by Genesis Industries, performing menial tasks for the citizenry. Genesis employees treat them kindly though, in case someday the constructs end up ruling them all.
Ad blocker interference detected!
Wikia is a free-to-use site that makes money from advertising. We have a modified experience for viewers using ad blockers

Wikia is not accessible if you've made further modifications. Remove the custom ad blocker rule(s) and the page will load as expected.