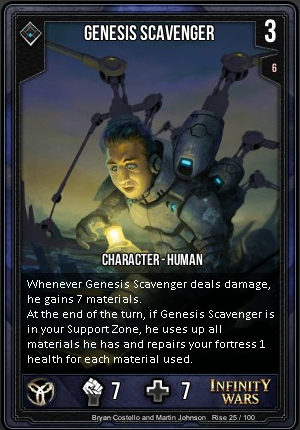 Faction
Genesis Industries
Purity
Type
Character - Human
Set
Rise
Rarity
Uncommon
Cost
3
Morale
6
Atk
7
HP
7
Text

Whenever Genesis Scavenger deals damage, he gains 7 materials.

At the end of the turn, if Genesis Scavenger is in your support zone, he uses up all materials he has and repairs your fortress 1 health for each material used.

RU: Каждый раз, когда Genesis Scavenger наносит урон, он получает 7 материалов.

В конце хода, если Genesis Scavenger находится в вашей Зоне Поддержки, он использует все материалы, которые имеет и ремонтирует вашу крепость на 1 здоровья за каждый использованный материал.

Flavor

N/A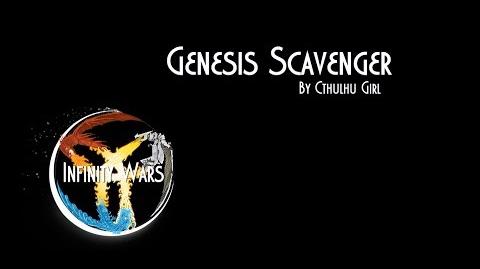 Though seen in the video it should be highlighted that it keeps it's resources even after death.
Ad blocker interference detected!
Wikia is a free-to-use site that makes money from advertising. We have a modified experience for viewers using ad blockers

Wikia is not accessible if you've made further modifications. Remove the custom ad blocker rule(s) and the page will load as expected.