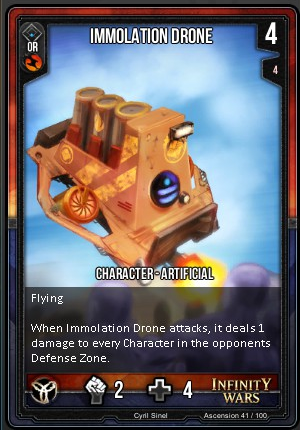 Faction
Flame Dawn -or- Genesis Industries
Purity
-or-
Type
Character - Artificial
Set
Ascension
Rarity
Uncommon
Cost
4
Morale
4
Atk
2
HP
4
Text

Flying

When Immolation Drone attacks, it deals 1 damage to every character in the opponents Defense Zone.

RU: Летающий

Когда Immolation Drone атакует, он наносит 1 урона каждому персонажу в Зоне Защиты соперника.

Flavor

N/A

Animation
Must be in the Attack Zone to count as attacking
The more defenders the more useful it's ability becomes.
Bloodbath or Swift Strikes triggers the attack twice.
Ad blocker interference detected!
Wikia is a free-to-use site that makes money from advertising. We have a modified experience for viewers using ad blockers

Wikia is not accessible if you've made further modifications. Remove the custom ad blocker rule(s) and the page will load as expected.