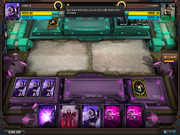 Initiative is a mechanic in Infinity Wars which sorts the order on which certain in-game actions are resolved. It is displayed as a yellow dot right next to your resources.
Initiative switches from one player to the other every turn. Using initiative correctly is crucial.
When a player has the initiative, any Abilities he or she activates on that turn will resolve before the enemy's abilities. For example:
- Player A has the initiative, uses Death Ray on an enemy Character.
- Player B uses Prayer Of The Dragon on the same character, which is intended to keep the and instead exhausts it.
- When the game enters the Resolution Phase, Death Ray comes first due to initiative, effectively rendering Prayer Of The Dragon useless.
Characters from whoever player has the initiative will also attack first.
Ad blocker interference detected!
Wikia is a free-to-use site that makes money from advertising. We have a modified experience for viewers using ad blockers

Wikia is not accessible if you've made further modifications. Remove the custom ad blocker rule(s) and the page will load as expected.