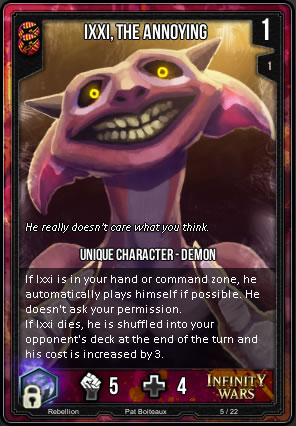 Faction
Exiles
Purity
Type
Unique Character - Demon
Set
Rebellion
Rarity
Rare
Cost
1
Morale
1
Atk
5
HP
4
Text

If Ixxi is in your hand or command zone, he automatically plays himself if possible. He doesn't ask your permission.

If Ixxi dies, he is shuffled into your opponent's deck at the end of the turn and his cost is increased by 3.

Flavor

He really doesn't care what you think.
Ad blocker interference detected!
Wikia is a free-to-use site that makes money from advertising. We have a modified experience for viewers using ad blockers

Wikia is not accessible if you've made further modifications. Remove the custom ad blocker rule(s) and the page will load as expected.