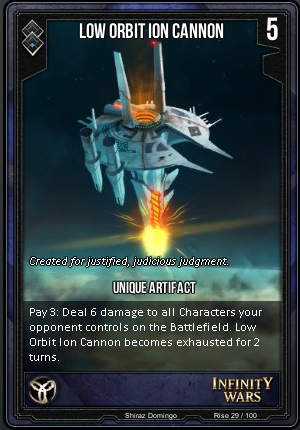 Faction
Genesis Industries
Purity
Type
Unique Artifact
Set
Rise
Rarity
Uncommon
Cost
5
Text
Pay 3: Deal 6 damage to all Characters your opponent controls on the Battlefield. Low Orbit Ion Cannon becomes exhausted for 2 turns.
Flavor

Created for justified, judicious judgement.
Play Tips
: Don't always activate the first turn you can. Can be used much better for defense as a deterrent then an actual weapon. You either want this to be the first thing your opponent thinks about or the thing they regret they forgot.
Ad blocker interference detected!
Wikia is a free-to-use site that makes money from advertising. We have a modified experience for viewers using ad blockers

Wikia is not accessible if you've made further modifications. Remove the custom ad blocker rule(s) and the page will load as expected.