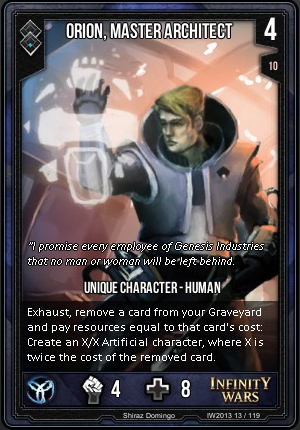 Faction
Genesis Industries
Purity
Type
Unique Character - Human
Set
Core 2013
Rarity
Rare
Cost
4
Morale
10
Atk
4
HP
8
Text

Exhaust, remove a card from your Graveyard and pay resources equal to that card's cost: Create an X/X Artificial Character, where X is twice the cost of the removed card.

Flavor

'I promise every employee of Genesis Industries that no man or woman will be left behind.

Even those who fall shall be part of the new world.'

-Orion, Leader of Genesis Industries
Play Tips
: Increases board stay ability
Keeps graveyard creatures from getting stolen and then used by opponent.
If you have a Mega Unit or Inter-Dimensional Phase Bot in your graveyard makes for a fun surprise.
Ad blocker interference detected!
Wikia is a free-to-use site that makes money from advertising. We have a modified experience for viewers using ad blockers

Wikia is not accessible if you've made further modifications. Remove the custom ad blocker rule(s) and the page will load as expected.